18 Nov

Power Up Energy Expo 2022

The Power Up Energy Expo 2022 was well attended by approximately 300 representatives in the energy sector to include public utilities, United States Air Force personnel, Department of Defense stakeholders (Defense Worx, U.S. Army Corps of Engineers), utility contractors, building contractors, electrical grid hardware providers, elected officials, and others who are interested in providing a conventional, sustainable, and resilient power supply in the southeastern United States and throughout the country.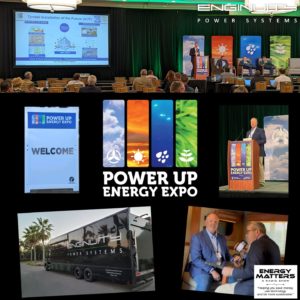 Notable attendees include Colonel Robert L. Bartlow Jr, Division Chief, Air Force Civil Engineer Center, Natural Disaster Recovery Division, U.S. Air Force. He is charged with managing all aspects of the rebuilding efforts under way at Tyndall AFB Panama City, FL and also those efforts at Offutt AFB, Nebraska. The goal for Tyndall AFB is to make it the model unto which all future Air Force bases will be constructed – "the base of the future".
It was a wonderful opportunity to showcase and demonstrate the E|ONE and a professional highlight included being asked to introduce Col. Bartlow as the keynote speaker – which included the opportunity to also introduce Enginuity as being at the expo. This allowed for the opportunity to mention the Showhauler being on-site and assisted in driving attendees to come outside for a product demonstration.
The feedback and reactions after seeing the live demonstration of our E|ONE in the Showhauler are so exciting and rewarding. They included:
"this is a wonderful display that demonstrates the system's size, the hot water, heat, electrical output, and notably the quiet operation."
"this demonstrates the compatibility and integration as an entire system, including with battery and solar."
Having the actual private generation product on-site allows us to make the most of this engaged time for educating attendees on the benefits of combined heat and power, showcase the resiliency and provide the real-world context that supports the ease of integration of our E|ONE home appliance.
The expo was attended by professionals in the energy sector and it has proven beneficial to showcase our product as a scalable, resilient, and affordable system that will also provide a payback feature over a relatively short period of time. This is very well received as most people are asking when they can purchase one for themselves (we invite you to our Contact Us page for joining our mailing list to stay up-to-date with news and developments).
An added benefit was meeting Tim Echols, Georgia Public Services Commissioner and Vice Chairman. Tim is very knowledgeable on energy matters and requested an interview to discuss Enginuity Power Systems (the E|ONE and those related to the DoD) for his 'Energy Matters' podcast which airs on Georgia radio stations as well as distributed on a platform; stay tuned for this upcoming episode, it's coming soon.
Thank you for hosting such an excellent event, Gulf Coast Energy Network!